BREVE STORIA
LE ORIGINI: 1985-1993
La EMA Vinci nasce nel 1993 dalla trasformazione ed inglobamento del MASKASTUDIO (Studio di Registrazione, Laboratorio di Sperimentazione e Servizi per la Musica fondato da Giuseppe Scali nel 1985).
Il MASKASTUDIO, ideato e fondato da Giuseppe Scali, nato inizialmente come laboratorio e centro di scambio per la musica contemporanea a servizio di un gruppo di amici compositori e musicisti, è stato una delle prime, se non la prima, realtà in Italia che ha affidato le molteplici attività dell'azienda totalmente all'Home Computer. Individuando e sperimentando le nascenti possibilità  del Personal Computer (identificato nel primo MACINTOSH Plus di Apple) e credendo nell'evoluzione che questo questo avrebbe avuto in seguito, Il MASKASTUDIO ha fondato il proprio standard e incrementato le proprie attività accogliendo completamente tutte le possibilità offerte dal computer riuscendo ad ottimizzare processi lavorativi che altrimenti avrebbero richiesto grandi investimenti di risorse sia umane che non. In altre parole il MASKASTUDIO non ha usato la macchina solo per coadiuvare o realizzare le attività che svolgeva, ma ha anche variato e incrementato le attività lavorative in funzione delle possibilità che computer stesso offriva. Lo studio, la sperimentazione, l'aggiornamento costanti hanno apportato conoscenze preziose e originali allo staff del MASKASTUDIO, tanto da diventare prima un punto di riferimento nel panorama musicale fiorentino, poi toscano, e, in seguito, un'azienda con uno standard lavorativo pionieristico sul panorama nazionale. In questa sede, per documentazione e memoria dobbiamo sottolineare la metodologia innovativa e precursiva adottata dal MASKASTUDIO che, combinando simultaneamente tutte le possibilità offerte dal personal computer, è giunto a realizzare un'attività di produzioni e servizi a 360 gradi in ambito discografico ed editoriale.
Il MASKASTUDIO già dalla metà degli anni '80 produceva:
• Notografia (digitalizzazioni e stampe di partiture) grazie all'ausilio di periferiche quali Tastiere MIDI, Scanner , Stampanti Laser ed applicazioni specializzate  quali Deluxe Music Construction Set by electronic arts , Encore della US company Passport Designs, Finale della Coda Music).
• Registrazioni ed elaborazioni audio, Sequencer, nonchè digitalizzazione di dati MIDI, realizzazioni di composizioni musicali e basi sonore con macchinari hardware quali Sound Tools, Pro Tools, Session Eight ed Audiomedia della Digidesign, uniti ad applicativi quali Performer, Cubase, Logic e tutte le applicazioni della Opcode, oltre  quelli citati sopra nel paragrafo relativo alla Notografia.
• Grafica specializzata nell'editoria musicale. Senza l'ausilio delle tecnologie tipografiche tradizionali venivano prodotte con notevole risparmio di tempo, ed un alta qualità libri, metodi, opuscoli, fascicoli, locandine, cataloghi oltre a spartiti e partiture. Le applicazioni maggiormante usate in quegli anni sono state PageMaker, Quark Xpress, Mcrosoft Word, Microsoft Excel e RagTime soventemente usati in combinazione con le applicazioni citate nel paragrafo relativo alla Notografia ed alle Registrazioni e Sequencer.
• Per concludere questa parte non possiamo non considerare l'aspetto relativo all'Archiviazione, alla Gestione e Catalogazione dei dati. FileMaker (già dal 1986) è stato uno dei primi programmi usati dal MASKASTUDIO  per creare le prime banche date di musicisti e professionisti operanti nell'ambito musicale, per catalogare i prodotti editoriali e discografici, nonché gestire ed archiviare i servizi offerti, le produzioni editoriali e discografiche, i lavori realizzati e l'anagrafica dei clienti, nonché la catalogazione dei prodotti. Partendo da banche dati interne relative a risorse umane, materiali e lavori, veniva automatizzata tutta la gestione dell'azienda attraverso un unico database relazionale. Oggigiorno EMA Vinci vanta di una grande esperienza nella gestione dell'automatizzazione di file realzionali e una banca dati formata nel tempo ed in continuo aggiornamento.
LA TRASFORMAZIONE
Nel 1993 avviene la trasformazione: Il MASKASTUDIO diventa EMA Vinci. La EMA Vinci a sua volta sarà formata dai seguenti dipartimenti:

• EMA VINCI SERVICE STUDIO DI REGISTRAZIONE.
(studio e laboratorio di produzione e servizi per la musica, naturale prosecuzione del MASKASTUDIO).
=> ABBIAMO LAVORATO CON …
• EMA VINCI RECORDS CASA DISCOGRAFICA.
Nel 1996 nasce
•EMA CANTICAE PRODUZIONI ARTISTICHE.
(le informazioni specifiche seguono nelle rispettive pagine raggiungibili attraverso i collegamenti)
---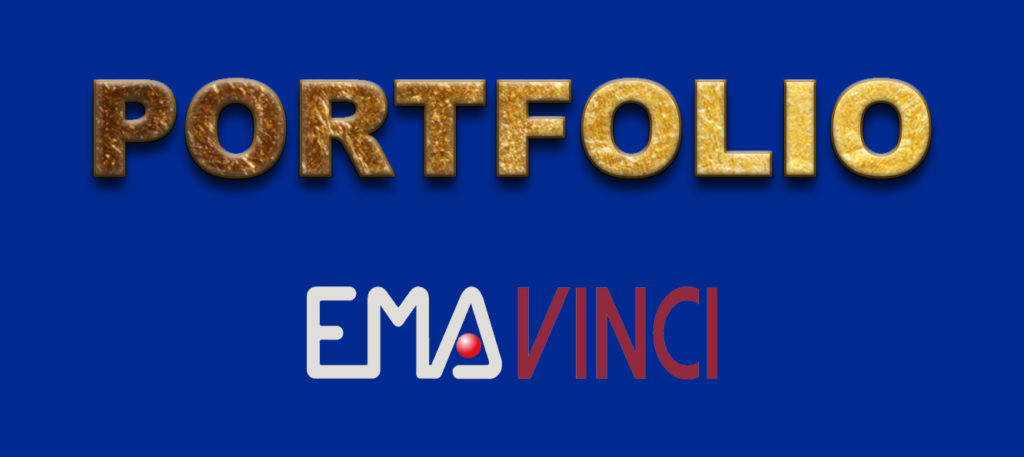 via delle Croci, 15 I-50056 Fibbiana – Firenze
P.IVA 04509160489 Numero REA FI – 456550
---
SHORT STORY
THE ORIGINS: 1985-1993
EMA Vinci was founded in 1993 by the transformation and incorporation of MASKASTUDIO (Recording Studio, Experimental Laboratory and Music Services founded by Giuseppe Scali in 1985).
The MASKASTUDIO, conceived by Giuseppe Scali, initially born as a laboratory and exchange center for contemporary music at the service of a group of friends composers and musicians, was one of the first, if not the first, reality in Italy that has entrusted the many company activity totally at Home Computer. By identifying and experimenting with the nascent possibilities of the Personal Computer (identified in Apple's first MACINTOSH Plus) and believing in the evolution that this would later have, MASKASTUDIO founded its own standard and increased its activities fully accepting all the possibilities offered by computers succeeding in optimizing work processes that otherwise would have required large investments of both human and non-human resources. In other words, MASKASTUDIO did not use the machine only to support or carry out the activities it performed, but it also varied and increased work activities according to the possibilities that the computer offered. Constant study, experimentation and updating have brought precious and original knowledge to the MASKASTUDIO staff, so much so that they first became a point of reference in the Florentine music scene, then Tuscan, and, later, a company with a pioneering working standard on the national scene. Here, for documentation and memory, we have to underline the innovative and precursive methodology adopted by MASKASTUDIO which, by simultaneously combining all the possibilities offered by the personal computer, has come to realize a 360 degrees production and services activity in the recording and publishing sector.
MASKASTUDIO already in the mid-80s produced:
• Photography (digitization and printings of scores) thanks to the aid of peripherals such as MIDI keyboards, scanners, laser printers and specialized applications such as Deluxe Music Construction Set by electronic arts, Encore of the US company Passport Designs, Coda Music Final).
• Audio recordings and processing, Sequencer, as well as digitization of MIDI data, realizations of musical compositions and sound bases with hardware machines such as SoundSides, Pro Tools, Session Eight and Audiomedia of Digidesign, combined with applications such as Performer, Cubase, Logic and all applications of the Opcode, in addition to those mentioned above in the paragraph relating to the photograph.
• Graphics specialized in music publishing. Without the aid of traditional typographic technologies, books, methods, pamphlets, files, posters, catalogs as well as sheet music and scores were produced with considerable time savings. The overwhelming applications used in those years were PageMaker, Quark Xpress, Mcrosoft Word, Microsoft Excel and RagTime, often used in combination with the applications mentioned in the paragraph on Photography and the Recordings and Sequencers.
• To conclude this part we can not fail to consider the aspect related to Archiving, Management and Cataloging of data. FileMaker (since 1986) was one of the first programs used by MASKASTUDIO to create the first date banks of musicians and professionals working in the music field, to catalog publishing and record products, as well as to manage and archive the services offered, editorial productions and recordings, the works carried out and the personal data of the clients. Starting from internal databases relating to human resources, materials and works, the whole management of the company was automated through a single relational database. Nowadays EMA Vinci boasts of a great experience in the management of the automation of real files and a database formed over time and continuously updated.
THE TRANSFORMATION
In 1993 transformation takes place: MASKASTUDIO becomes EMA Vinci. The EMA Vinci in turn will be formed by the following departments:
• EMA VINCI MUSIC EDITIONS (musical editions to support the record publications).
• EMA VINCI SERVICE (study and production workshop and services for music, natural continuation of MASKASTUDIO).
• EMA VINCI RECORDS (record company).
From 1993 until 2011 the EMA Vinci records will be a label mainly attentive to the proposals of the composers and the World Music and Classical genres. In the classical context the record will make in this period a rich collection of albums related to the classical accordion (Salvatore di Gesualdo, Alessandro Dei, Riccardo Centazzo, Claudio Jacolucci, Fausto Settevendemie, Alessandro Moretti, Roberto Caberlotto and Ivano Battiston), so much to put it as label nationwide in the field of classical accordion publications.
In the context of World Music we recall the works with Kamran Khaceh, the trio of Faye Nepon, and Nirvananananda. Until this time, the energy of the record company will be directed to the revaluation and support of the musical realities of its territory and strongly concentrated in the classical field. Among the artists produced are Aquiles Delle Vigne, Piernarciso Masi, Alessandra Garosi, Gregorio Nardi and Andrea Passigli. From 1994 until 2009 the EMA Vinci records carries out the sales of its mail order products, boasts of an online store and is distributed by Materiali Sonori.In 1996 the department of artistic productions EMA CANTICAE was born, a department that specialized in the marriage Sound / Art, Music / Art and Total Art. The sound landscapes created by EMA Canticae, thanks to the union with the artist Marco Bagnoli we can hear and see them in works of international importance edited by the main Italian art critics and not as Germano Celant, Achille Bonito Oliva, Harald Szeeman, Sergio Rises, Lucrezia De Domizio, just to name a few, in the main Italian galleries such as the Galleria Giorgio Persano in Turin, the Galleria Crhistian Stein in Milan, the Madre Museum in Naples, the Luigi Pecci Center for Contemporary Art in Prato, as well as collective, national and international events or fairs including the Venice Biennale and the Valencia Biennial. In 1997 the EMA Vinci records undertook commercial relations with The Orchard, reaching digital distribution agreements in the world for the artist Nirvanananda.Nel 2009 the EMA Vinci records will be distributed worldwide for digital products by Believe Digital. Also in 2009 the EMA Vinci establishes a collaboration with Fonofficina (Recording Studio and Test Room). Productions and Services will be carried out at this activity. The reference engineer will be Marco Cardone. A careful investigation and analysis both artistic and market induces the record EMA Vinci records to recover the initial spirit of its foundation: to be mainly at the service of contemporary cultured music. The first record production projects were born that would have seen the light in the following years. THE DEVELOPMENT AT NATIONAL LEVEL AND THE 2011, following a series of reflections and significant artistic collaborations, among which we remember those with Marco Bagnoli (artist), Michael Galasso, Kamran Khacheh, Alessandra Garosi, Alessandro Magini, Alain Goudard and Alessandro Solbiati, the EMA Vinci records has turned to contemporary cultured music. In 2014 the company underwent a change in the social structure: Marco Cardone took over as executive manager, while Giuseppe Scali will be in charge of the artistic part. The collaboration on the phonic plan between Giuseppe Scali (sound designer) and Marco Cardone (sound engineer) will bring the EMA Vinci records to have its own original recording standard, based on minimal sound recording techniques and total, while solo instruments or very small formations will be filmed with maximal techniques sbi launched. This standard has given the EMA productions Vinci records its own sonority particularly appreciated for those who want clarity, sound, depth and dynamics. Since then the record has achieved very important results, reaching a significant recognition in 2015 by the SIAE ( Italian Society of Authors and Publishers) through the SIAE-Classici di Oggi project: in fact, the EMA Vinci records has been identified "as a record company deserving for its efforts and for the continuous activity carried out to support and promote contemporary cultural music". In this year the EMA Vinci records has sealed a collaboration agreement with Tempo Reale, the processing center for electronic music of Florence founded by Luciano Berio, through the TREMA record line. In 2015 the EMA Vinci Music Editions extended its activity also to the Dramatic, Radio-Television, and to the Works of Letters and the Figurative Arts, acquires its own Online distribution for electronic files all over the world and the brand from EMA Vinci musical editions becomes EMA Vinci editions. The continuous updating and development of archive programs related to databases and management automation of its business in turn, it turned into third party work, in 2015 the department of EMA Vinci service begins to perform work for third parties, we remember the collaboration with Giovanni Valle Edizioni that leads to the creation of a series of management, optimization and automation files for publishing and recording activities; the planning and management of the Multimedia Archive of the artist Atelier by Marco Bagnoli and the SPAZIOXTEMPO association; the planning and management of the Historical Archive of Sammontana SpaIn 2016, always at the EMA Vinci records, for the second consecutive year SIAE has conferred on the Tuscan record the "recognition of excellence" inserting it again in the SIAE – Classici di Oggi project. 2016 sees realized by EMA Vinci records the following record lines: • TRema, in collaboration with Tempo Reale di Firenze • SIAE-Classici di Oggi, also realized with the SIAE contribution • LISTENING in collaboration with the NEW MADE ENSEMBLE of Milan • GAMO-EMA Vinci archive, collaboration with the GAMO ensemble association of Florence. In 2016 the EMA Vinci records acquires a reference role in the national panorama linked to contemporary publications. From this date the EMA Vinci records will merge the EMA Vinci contemporary label. The last months of 2016 are characterized not only by a continuous production activity in their own studio, but also by the particular attention that the EMA Vinci records has poured towards the Opera Theater (thanks to the great versatility of the technological apparatus of which it has ). the productions of: Opera Unica by the artist Marco Bagnoli, L'Amor that moves the sun and the other stars are planned: the contemporary Dante of the duo Cristina Mazzavillani Muti – Adriano Guarnieri, Il Suono Giallo (Abbiati award) and Leggenda di Alessandro Solbiati, Hanjo by Marcello Panni and Canto di Natale by Lino Liviabella. Finally, in this year the EMA Vinci founded the L & C digital music label in order to group productions from different areas, give voice and promote artists and then undertake projects that are parallel and different from those that will be part of the EMA Vinci records catalog. In 2017 the EMA Vinci service, thanks to the architect Luciano Scali completely restructures into a WorkRoom able to host the artists and, thanks to Anita Azzi, is equipped with a Kawai KG3D grand piano. EMA Vinci records inserts its catalog into the portal Discogs.The EMA brand Vinci contemporanea seals agreements for the publication of a number of unpublished record works signed by great composers and performers of Italian music such as: Claudio Ambrosini, Carlo Boccadoro, Gilberto Cappelli, Azio Corghi, Michele Dall'Ongaro, Carlo Galante, Adriano Guarnieri, Daniele Lombardi, Gaetano Giani Luporini, Alessandro Magini, Boris Porena, Alessandro Solbiati, Marce llo Panni and Nicola Sani, while among the interpreters we include Monica Benvenuti, Paolo Carlini, Experimental Studio of Friborg, Roberto Fabbriciani, Matteo Fossi, GAMO ensamble, Francesco Gesualdi, Stefano Malferrari, New Made Ensemble and Tempo Reale ensemble. Also in 2017 the EMA Vinci records founds the EMA Vinci classic label dedicated to classical and serious music in general. It wins two calls in the SIAE – SILLUMINA project related to the section MUSICA-Opere Nuove that will lead to the production of two CDs with a circulation of 2,000 copies each.The SIAE reconfirms the EMA Vinci records, and specifically the EMA Vinci Vinci, for the third consecutive year the role of excellence. The Contemporary EMA Vinci will continue the work of enhancing the Italian compositions and composers through specific productions and through its lines: Classics of Today Interpreters, TRema, LISTENING, GAMO EMA Vinci archive. The next step is marked by the project around the contemporary work called precisely L'Opera Contemporanea Italiana, where EMA Vinci records, through its EMA Vinci contemporary label, aims to create a series of poductions that testify and represent the memory of our period both with regard to the Opera in its widest form and the Opere da Camera, in its reduced formal and instrumental structure. Among these we mention (among those produced and those in production) Hanjo (Carlo Boccadoro – Cesare Scarton) and The Judgment of Paride (Fabio Maestri) by Marcello Panni, L'Amor that moves the sun and the other stars (Pietro Borgonovo – Cristina Muti) and Infinite darkness of Light (P. Borgonovo – Giancarlo Cauteruccio) by Adriano Guarnieri, The Yellow Sound (Marco Angius – Franco Ripa Di Meana) and Legend (Gianandrea Noseda – Stefano Poda) by Alessandro Solbiati, Shi by Carlo Boccadoro ( C. Boccadoro – Cecilia Ligorio), The Color of the Sun (Gabriele Bonolis – Cristian Taraborelli) by Lucio Gregoretti, Bach Haus (Emanuele Amendola – C. Scarton) by Michele Dall'Ongaro, Novatrix (M. Panni – Daniele Lombardi) by Daniele Lombardi …
Follows Up in the Italian language
---
© EMA Vinci
P.IVA 04509160489
Numero REA FI – 456550