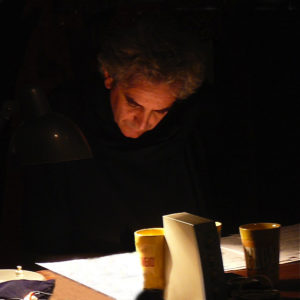 Biografia
Ha compiuto gli studi musicali al Conservatorio "Giovanni Battista Martini" di Bologna, a Novara e Firenze (composizione, organo, pianoforte) con Alessandro Solbiati, Roberto Pichini, Paul von Schilhawsky, Franco Donatoni, Aldo Clementi. Laureato in Drammaturgia Musicale con Lorenzo Bianconi e Thomas Walker all'Università di Bologna.
Compositore attivo soprattutto in ambito cameristico e teatrale, ha ricevuto commissioni per progetti istituzionali dedicati alla diffusione della musica contemporanea e della cultura umanistica e le sue composizione sono eseguite in numerose rassegne concertistiche e festivals (Résonance Contemporaine Bourg-en Bress
e, Festival MiTo Settembre Musica, Festival G.A.M.O. FIrenze, Festival di Montepulciano, Festival Antidogma Torino, Société de Musique Contamporaine Losanna, Rencontres Contemporaines Lyon, Festival de Musique Le Bourget du Lac, Museo internazionale e Biblioteca della musica di Bologna,  Teatro Metastasio Stabile della Toscana, Biblioteca Nazionale Centrale di Firenze, Accademia della Crusca, Basilica di Santa Croce di Firenze, Biblioteca Casanatense di Roma, Minoritenkirche Wien, Biblioteca Marucelliana e Riccardiana di Firenze,).
Ha collaborato con artisti e strumentisti (Avi Avital, Luigi Attademo, Francesco Gesualdi, Stefano Malferrari, Ivano Battiston, David Bellugi, Ju-Ping Song, Luca Bagnoli, Francesco Dillon, Massimo Barrera, Thuridur Jonsdottir, Alessandra Garosi, Claudia M. Th. Hasslinger, Gregorio Nardi, Daniele Faziani, Sara Minelli, Ana Spasic, Ljuba Bergamelli ecc.), registi (Ugo Gregoretti, Piotr Fomenko, José Sanchis Sinisterra, Marcello Bartoli, Giovanni Papotto), con le attrici Marisa Fabbri, Maya Sansa, Adonella Monaco, con gli scrittori Cinzia Tani  e Sergio Givone, col quale ha realizzato un melologo tatto dal suo romanzo Nel nome di un dio barbaro, (Ed. Einaudi).
Svolge attività concertistica come organista e come pianista nel repertorio liederistico. E' titolare dell'organo storico Traeri (1699) presso l'Oratorio dei Bardi (Vernio-Toscana).
I suoi contributi musicologici si inseriscono nell'analisi del teatro per musica del Seicento e di quello contemporaneo, negli studi dedicati alla Camerata dei Bardi e alla cultura musicale umanistica. In tale ambito ha pubblicato le musiche di compositori del primo teatro musicale italiano (Benedetto Ferrari, Filiberto Laurenzi, Francesca Caccini) e realizzato, con la direzione di Alan Curtis, la messa in scena de La liberazione di Ruggiero dall'isola di Alcina di Francesca Caccini (Teatro Metastasio Stabile della Toscana). E' stato membro della giunta esecutiva del Comitato Nazionale per le Celebrazioni del IV Centenario della Nascita dell'Opera, istituito dal Ministero per i Beni e le Attività Culturali.
Ha diretto per otto anni il Centro Magnolfinuovo di Prato, dove ha realizzato rassegne concertistiche, convegni e programmi di formazione e produzione dedicati alla drammaturgia musicale contemporanea e alla musica di ricerca.
Ha fatto parte parte del Consiglio Direttivo del Centro Tempo Reale di Firenze, fondato da Luciano Berio.
Per lo studio dell'umanesimo musicale fiorentino, della Camerata dei Bardi e della cultura musicale contemporanea ha fondato l'Accademia Bardi (già Centro Bardi) della quale è presidente e direttore.
E´titolare della cattedra Drammaturgia musicale presso l'Accademia Nazionale d'Arte Drammatica "Silvio D'Amico" di Roma.
E' membro dell'Accademia del Cinema Italiano e della giuria per l'assegnazione del Premio David di Donatello.
Fa parte del comitato probiviri del progetto SIAE-Classici d'Oggi, istituito dalla SIAE per la promozione e la diffusione della musica contemporanea italiana
Da diversi anni collabora con Résonance Contemporaine (Francia) diretta da Alain Goudard con la quale ha recentemente realizzato i progetti Vola alta parola (dedicato al poeta Mario Luzi) e Le rayon ardent (sei voci, elettronica, voci recitanti, video). Lavora con l'artista Marco Bagnoli e il suo centro d'arte contemporanea Spazio X Tempo per la realizzazione di Opere Sceniche che vedono interagire arte figurativa, musica, poesia, teatro.
Pubblica per le Edizioni Musicali EmaVinci Bérben, Edizioni Musicali Sinfonica. Incide per la casa discografica Emarecords
---
---
CURRICULUM BREVE
---
Discografia
---
PROFILI
• Spotify
• Google
• iTunes
• YouTube
---
EVENTI
---
GALLERIA FOTOGRAFICA
---
NEWS LETTERS
---
PLAYER
Compare in
Interprete
Traeri 1699 L'Organo dell'Oratorio Bardi a Vernio
---
references
Canale You Tube
English
Alessandro Magini (composer-organist) studied organ and piano in Florence under the guidance of Robert Pichini and attended the masterclasses of Paul von Schilhawsky (Director Emeritus of the Salzburg Mozarteum) on piano performance practice in the lieder repertoire.
Alessandro Magini graduated with honors in Musical Dramaturgy from the University of Bologna under the direction of Lorenzo Bianconi and Thomas Walker and in composition from the Conservatory of Bologna with Alessandro Solbiati. Subsequently he graduated with honors  the Advanced Course in Composition of the International Music Academy of Novara. He also attended master classes and seminars with F. Donatoni, A. Clementi, G. Petrassi, N. Castiglioni, G. Manzoni, G. Ligeti, L. Berio. He has given a great number of concerts as a piano accompanist as well as an organist.
As a composer and researcher Alessandro Magini focuses on the relationship between music and experimental theater.
In 1999 he was appointed Professor of Musicology to the National Academy of Dramatic Art in Rome (where he has been teaching since then) and intensified his activities in music composition for theater (collaborating with directors such as Josè Sanchez Sinisterra, Piotr Fomenko, Marcello Bartoli as weel as with the Teatro Metastasio Stabile of Tuscany, Laboratory Riuniti, Rome).
In 2000 he was appointed to the executive council of the "National Committee for the Celebration of the Fourth Centenary of the Birth of the Opera" set up by the Ministry of Heritage and Culture, in collaboration with the Teatro Comunale of Florence, Biblioteca Nazionale Centrale in Florence, the Teatro La Pergola .
In 2003 he was appointed artistic coordinator of the Centre Magnolfinuovo Prato (training and production in the field of contemporary musical drama). He also is director of the Centro Bardi, dedicated to studies on experimental music in the Florentine Renaissance (Camerata dei Bardi). The interest in the "sound of the word" connotes some of his studies, published in journals. Many of his compositions have been performed in particulary significant places for the humanism, such as the National Central Library of Florence, Florence Marucelliana Library, Accademia della Crusca, Library Casanatense Rome, National Library of Vienna, Opera di Santa Croce in Florence.
Alessandro Magini has composed several melologues for Chamber Theatre. Recently he collaborated with the philosopher Sergio Givone for a musical version (cello, guitar and narrator) of the novel "In nome di un Dio barbaro".
In the last years he has been dedicating a series of compositions to the accordion, solo and in duo with various instruments (cello, organ, guitar, flute, piano, oboe, mandolin, collaborating with I. Battiston, F. Gesualdi, D. Bellugi, F. Dillon, M. Barrera, L. Attademo, S. Malferrari, A. Avital, L. Bagnoli). The accordion is also present in his last two works: "Le storie di San SIlvestro. Una sacra rappresentazione" (mezzo-soprano, narrator, accordion duo) for the Basilica of Santa Croce in Florence and" Naviglio-fantasma" (baritone, accordion, oboe) for the exhibition "Futurism in Calabrian music" at the University of Calabria.
He is a member of the Italian Academy of Cinema for the David di Donatello Awards.
He is a member of the Board of Directors of the Center for Contemporary Music "Tempo Reale" (Florence) founded by Luciano Berio.
His works are published by Edizioni Musicali Berben and, in digital, by Ema Vinci records.